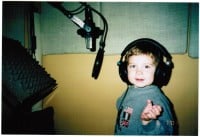 The introduction to Father Knows Nothing (available for pre-order now–right here), features a few highlights from my radio days. My kids were part of the John Records Landecker show on WJMK from the moment they were born. Their births were recorded and played on the air, and I phoned into the show from the delivery room to provide live reports.
The two oldest boys were also regularly featured beginning at the age of 2 or so. Here are a few highlights that didn't make the book, but you might enjoy.
Little Tommy Kaempfer Sings (Age 2)

Tommy Kaempfer reviews "Toy Story on Ice" (Age 3)

Johnny Kaempfer reviews "Monsters Inc." (Age 3)

Tommy Kaempfer plays Who Wants To Be A Millionaire (Age 5)

I'm heading downtown today to record a few audio tracks that will be turned into promotional videos. Look for "The Twelve Days of Teen Christmas" and "Twas the Night Before Parent's Christmas" to hit YouTube shortly after Thanksgiving.