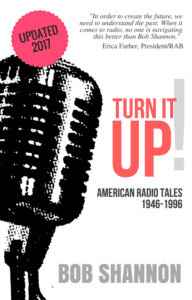 Bob Shannon's book Turn it Up: American Radio Tales 1946-1996 comes out today on e-book via Eckhartz Press. Click here to purchase your copy on amazon.
Bob chose August 16th as the release date for a special reason. It's the 40th anniversary of Elvis Presley's death. Elvis was special in Bob's career–Bob was the one entrusted with letting the Dallas radio audience know about Elvis' passing. That touching story is told in the audio clip below.
Bob's book is also about the all-time great radio personalities, and that includes Dewey Phillips from WHBQ Memphis. Who is Dewey, you ask? Only the first disc jockey in America to play Elvis Presley on the radio.
This audio clip has that story too, and it's a good one.

Bob's audio gives you a good idea of what yuu'll encounter in the pages of Turn it Up: American Radio Tales 1946-1996. Great stories told with great flair.
If you love radio, you'll love Turn it Up: American Radio Tales 1946-1996