A boutique Chicago publishing company for a brave new 21st century publishing world.
The Living Wills
"Rollicking and real on so many levels, 'The Living Wills' is a captivating collaboration by two immensely talented writers. I hope this team keeps at it for keeps."
- Rick Kogan, The Chicago Tribune
Down at the Golden Coin
"Touching our hearts, opening our minds, and moving our spirits. Absolutely brilliant!"
- Linda Howe, author of "How to Read the Akashic Records" and "Healing through the Akashic Records"
Cheeseland
"Richardson richly captures the bravado and heartbreak of damaged boys who grow up into damaged men."
- James Finn Garner, author of "Politically Correct Bedtime Stories" and the "Rex Koko, Private Clown" mysteries
The Balding Handbook
"If you're uncomfortable with your impending baldness, Stern's book will ease your pain … or perhaps intensify it. Either way, you'll get plenty of laughs … "
- Brad Shorr, B2B Insights
Records Truly Is My Middle Name
"Terribly astonishingly honest! A story of a generation."
- Rick Kogan, Chicago Tribune & WBEZ-Radio

Apr. 21, 2014 By Rick Kaempfer Leave a Comment

Apr. 18, 2014 By Rick Kaempfer Leave a Comment

Apr. 16, 2014 By Rick Kaempfer Leave a Comment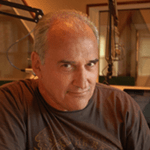 John Records Landecker
Author of "Records Truly Is My Middle Name".
John Records Landecker has had a legendary 40+ year radio career; one that the Rock and Roll Hall of Fame in Cleveland saw fit to feature in their radio exhibit. Landecker was born and raised in Ann Arbor, Michigan, and that's where his radio career began. John has gone on to entertain radio audiences in Michigan (WOIA, WERX, WTRX, WILS), Philadelphia (WIBG), Chicago (WLS, WLUP, G-106, WCKG, WJMK), Toronto (CFTR) and Cleveland (Power 108). When he was working at WLS in the 1970s, John was named Billboard Magazine's Radio Personality of the year.
View Book ›